Do dental imperfections bother you a lot whenever looking at yourself in the mirror? Worry no more as there are a lot of dental treatment options to choose from that helps address several oral issues. However, there is a particular treatment that is a popular option in quickly achieving that beautiful smile people have always wanted, and that is through dental veneers.
Dental veneers are wafer-thin, custom-made shells made from porcelain or composite materials. They are crafted to cover the front surface of the teeth to fix several dental problems, such as chipped, stained, misaligned, worn down, uneven, or gapped teeth to provide people with a natural and attractive-looking smile.
At Dentistry of East Sacramento, we offer a wide variety of dental veneers and brands for our patients. It includes traditional veneers, composite veneers, Lumineers, Emax, and Empress brand veneers that will significantly help our patients achieve the smile aesthetics and strength they have always dreamed of.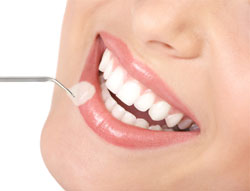 With veneers, people who are having trouble with their imperfect smile can achieve the results they have always wanted. That is why this treatment has been gaining a lot of popularity in enhancing the appearance of one's smile. Below are the following reasons why a dental veneer is a favorable treatment option.
Helps whiten the smile easily
Frequent consumption of coffee, highly pigmented foods or even smoking will eventually cause the teeth to turn into an unattractive shade of yellow. For discolored or stained teeth, the first thing people consider is having their teeth bleached at home by using several teeth whitening products or through the help of the dentist. However, this treatment does not last forever as the teeth can become stained over time. If you are looking for an easier way to whiten the teeth that is also long-lasting, veneers are the answer. Veneers are known to be stain-resistant, so patients no longer have to worry about discoloration.
Fix several minor cosmetic problems
Problems with slightly crooked or gapped teeth are often treated with braces or other orthodontic treatments. However, these issues can sometimes be addressed with veneers. Veneers are attached to the front surfaces of the teeth to conceal those minor orthodontic problems. This treatment is ideal for people who are not comfortable wearing orthodontic devices and also to those who want to see the results they desire as soon as possible.
Replace damaged teeth enamel
The tooth's enamel is strong, but not indestructible. The enamel can still wear down due to excessive brushing or being eaten away by highly acidic foods and drinks. Also, the stomach acid associated with acid reflux can contribute to the damage of the enamel. Unfortunately, once the enamel has been damaged, it will no longer grow back. The good news is, it can be replaced through the help of veneers, which have been an excellent treatment for teeth with enamel abrasion or erosion and at the same time, provides aesthetically pleasing results.

Bring out your best smile with Veneers in Sacramento, CA, book your appointments with Dentistry of East Sacramento! Contact us so that you will experience outstanding results to make your teeth naturally beautiful and healthy. We are located at 1005 39th St., Sacramento, CA 95816.