Dentists understand that not every patient looks forward in seeing them for a routine visit, yet they still advise everyone to do so. Some people avoid seeing the dentist for they are worried about the cost, while others developed fear or anxiety from dental procedures. But is it really necessary to undergo a regular checkup every six months? Is it worth it?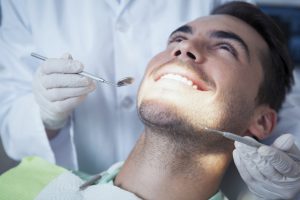 Yes, definitely! To convince patients about its importance and to answer the questions they have in mind, we have prepared a series of reasons on why they should regularly see a dentist.
Despite the practice of proper brushing and flossing at home, there are still some areas in the mouth where harmful substances like plaque and tartar (hardened plaque) can accumulate. These spots can be more vulnerable to complications like gum disease and tooth decay if left unattended. But with regular checkups, prevention is possible for professional cleanings are done by dentists to thoroughly clean all the spaces in the mouth.

A thorough examination of the teeth, mouth, gums, and other structures is also performed. It ensures that any issues that are starting to develop are detected early for it to be handled by a corresponding procedure for its cure.

While visual examination is effective, undergoing a dental x-ray is still best performed. It allows the dentist to spot any irregularities that lie underneath the gums. Since these spaces cannot be seen by the naked eye, an x-ray proves to be highly useful. At Dentistry of East Sacramento, we value our patients' health, safety, and comfort. Instead of using the traditional approach, we perform digital x-rays which have lesser radiation and is much convenient to use.

Oral cancer is a condition that if left undetected, can be life-threatening. The key to its successful cure is its early diagnosis and treatment. Thankfully, screenings for the disease are performed during regular checkups where the dentist would examine for signs like lumps, patches, and more. Once any are detected, the patient would then be endorsed to a specific treatment for the problem to be taken cared of immediately.

The dentist would help in educating patients about their bad habits like poor hygiene, smoking, excessive intake of alcohol, and teeth grinding. Necessary treatments can be recommended for teeth grinding, while others would require a lifestyle change.
We at Dentistry of East Sacramento also believe that prevention is always better than cure. That is why we include professional dental cleaning, full dental examination, digital x-rays, and oral cancer screening as part of our regular dental checkups that patients can avail every six months.
You deserve outstanding dental care services. We provide Regular Checkups in Sacramento, CA. Book your appointment with us at Dentistry of East Sacramento and let us help you achieve beautiful and healthy teeth!